The Founder – Christopher Harris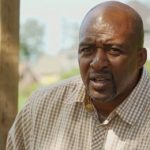 Chris Harris grew up in central Kansas City's Ivanhoe neighborhood in the 1970s. He has fond memories of life in and around his home, located directly across from where his dream now stands-the Midtown Sports & Activities Center. As he grew up and pursued his education, the old neighborhood gradually fell into decline throughout the 1980s and 90s.  Recruited from Penn Valley Community College in Kansas City, Chris attended Cardinal Stritch University in Milwaukee, WI. While there he majored in Sociology and played basketball as a member of the 1998 Stritch team that reached national tournament-level play.
After graduating, Chris returned to Kansas City to become assistant coach with the Kansas City Knights Basketball team. It was during this time that the conditions in his old neighborhood began to cause him concern-but also sparked a dream.
In 1998 and 1999 he purchased an entire city block across from his childhood home, and began a transformation of that block into a supervised park for community children and youth.  Now, at 40th Street and Wayne Street stands that dream made real. The decaying buildings are gone. In their place is a four-acre park with basketball courts, volleyball courts, horseshoe pitches, and a children's playground. The amenities are just a catalyst for what Chris hopes to do. "It's the magnet that brings younger people in to play and older people to watch," he says. "Our goal is to take advantage of that mixing and mingling and to add a wide variety of educational programming."
The complex will be staffed by professionals who teach the basics of various sports, life skills training, and educational classes. Each program is offered to participants for free.
Once again living in his childhood home where he can easily look out to see all ages gathered together on an early evening, Harris says, "We know that members of the community appreciate our program because they respect the rules. Our challenge now is to continue the upkeep and expansion of our facility so that we may serve more clients more effectively.